June 17, 2020
CFB Insider
Gridirion Legend and Heisman Trophy Winner Ty Detmer Talks Football with Texas Bowl VIPs
Texas high school star, NCAA All-American, Heisman Trophy Winner, NFL quarterback and most recently, Grandpa. Gridiron Legend and Texas native took some time to sit down with Texans TV's Drew Dougherty for the first series of virtual 'Let's Talk Football' chalk-talks with Texas Bowl VIP's.
The former Texas high school football star reminisced about his experience under the Friday night lights, playing for his father and current Somerset High School Head Coach, Sonny Detmer.
Detmer went on to become a two-time NCAA All-American and a major impact player for BYU. In 1990, Detmer was awarded the Heisman Trophy, the former NCAA star shared a little about how memorable it was to receive the honor.
Finally, it wouldn't be a Texas Bowl event without asking for way too early Bowl predictions! Detmer weighed in on who he thinks will be a force in college football this fall.
June 15, 2020
Football
Bears' Dave Aranda Makes Head Coaching Debut; Lane Kiffin's First Game with Rebels
The 2020 Texas Kickoff featuring Baylor vs. Ole Miss is scheduled to kick off Sunday, Sept. 6, moving from the previously scheduled date of September 5. The game, played at NRG Stadium in Houston, is slated to be part of ESPN's Labor Day weekend opening schedule, airing on an ESPN network.
The fifth installment of the annual Sunday holiday weekend game will mark Dave Aranda's head coaching debut at Baylor and Lane Kiffin's first game with Ole Miss as head coach. Baylor is currently ranked number 25 in ESPN's Way-Too-Early Top 25 Rankings.
"ESPN's Sunday game during kickoff weekend has quickly developed into a strong franchise," said Pete Derzis, ESPN senior vice president of programming and ESPN Events. "We look forward to continuing that success as we feature two head coaches in their inaugural games with two great programs. We want to thank the schools and our Texas Kickoff team for recognizing this unique opportunity."
Fans interested in tickets for the event can visit www.texaskickoff.com and sign up for the Priority Wait List to receive the most up to date information for when single game tickets and suites will be released. Tickets are also available through Baylor Athletics and Ole Miss Athletics via their ticket offices.
Kickoff time and network designation for the matchup will be available at a later date. ESPN's early-season college football schedule will be announced in the coming weeks as conferences and television networks continue to prepare for the college football season.
ESPN Events
ESPN Events, a division of ESPN, owns and operates a portfolio of 35 collegiate sporting events nationwide. The roster includes four early-season college football games, 17 college bowl games, 11 college basketball events, a college softball event and two college award shows, which accounts for approximately 400 hours of live programming, reaches nearly 64 million viewers and attracts over 800,000 attendees each year. With satellite offices in more than 10 markets across the country, ESPN Events builds relationships with conferences, schools and local communities, as well as providing unique experiences for teams and fans.
For more information, visit the official website, Facebook, Twitter or YouTube pages.
-30-
Media contacts
ESPN Events: Anna Negron at anna.m.negron@espn.com or 860-256-1757
Texas Kickoff: Allie LeClair at Allie.LeClair@houstontexans.com or 832-919-0655
May 13, 2020
Football
HOUSTON: Rice and LSU will line up for an afternoon meeting on September 19 at NRG Stadium as kickoff for the first meeting between the two schools in Houston since 1983 has been set for 2:30 p.m. to accommodate television scheduling.

Final broadcast details for the game will be announced in the near future.

Tickets for the defending national champion's first regular season appearance in Houston since facing the Owls in 1983 will go on a sale on Friday, May 15 with a portion of ticket sales between now and the end of May benefiting COVID-19 relief efforts in Houston.

Tickets start as low as $35 and will be available online on Friday, however interested fans can sign up for a special pre-sale on Thursday by registering in advance.

The Owls and Tigers will resume their series in Houston that began in 1915. This will be the 57th meeting between the two schools overall. The schools met continuously from 1932-52 and then again from 1955-83 and renewed the series in 2018 when Rice traveled to Baton Rouge. This will be the first time Rice has hosted a defending national champion since 2006 when the Owls hosted Texas at then-Reliant Stadium.

Season tickets for the Owls 2020 campaign, which include the Rice-LSU game as well as six games at Rice Stadium, are also currently on sale.
By Chuck Pool (cpool@rice.edu)
May 7, 2020
Football
Each college football game played on the field at NRG Stadium features future NFL stars, they just don't know it yet. This year, 29 players from LSSE events were drafted to the NFL and more have now been signed as undrafted free agents.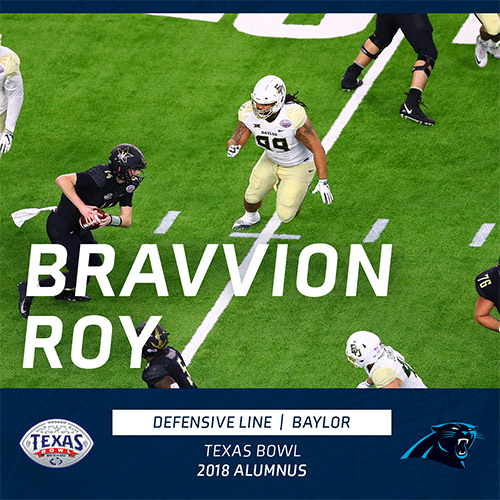 View Photo Gallery
Texas A&M – Texas Bowl 2019, Texas Bowl 2016
1. Justin Madubuike – Baltimore Ravens – Round 3, Pick 71
2. Braden Mann – New York Jets – Round 6, Pick 191
Texas – Rice vs UT 2019, Texas Bowl 2017
3. Brandon Jones – Miami Dolphins – Round 3, pick 70
4. Devin Duvernay – Baltimore Ravens – Round 3, Pick92
5. Collin Johnson – Jacksonville Jaguars – Round 5, Pick 165
Houston – Texas Kickoff 2019
6. Josh Jones – Arizona Cardinals – Round 3, Pick 72
Washington State - Texas Kickoff 2019
7. Dezmon Patmon – Indianapolis Colts – Round 6, Pick 212
Baylor – Texas Bowl 2018
8. Denzel Mims – New York Jets – Round 2, Pick 59
9. James Lynch – Minnesota Vikings – Round 4, Pick 130
10. Bravvion Roy – Carolina Panthers – Round 6, Pick 184
11. Clay Johnston – Los Angeles Rams – Round 7, Pick 234
Vanderbilt – Texas Bowl 2018
12. Ke'Shawn Vaughn – Tampa Bay Buccaneers – Round 3, Pick 76
Texas Tech – Texas Kickoff 2018
13. Jordyn Brooks – Seattle Seahawks – Round 1, Pick 27
14. Broderick Washington Jr. – Baltimore Ravens – Round 5, Pick 170
Missouri – Texas Bowl 2017
15. Jordan Elliott – Cleveland Browns – Round 3, Pick 88
16. Albert Okwuegbunam – Denver Broncos – Round 4, Pick 118
LSU – Texas Kickoff 2017
17. K'Lavon Chaisson – Jacksonville Jaguars – Round 1, Pick 20
18. Justin Jefferson – Minnesota Vikings – Round 1, Pick 22
19. Patrick Queen – Baltimore Ravens – Round 1, Pick 28
20. Clyde Edwards-Helaire – Kansas City Chiefs – Round 1, Pick 32
21. Grant DeLpit – Cleveland Browns – Round 2, Pick 44
22. Kristian Fulton – Tennessee Titans – Round 2, Pick 61
23. Lloyd Cushenberry – Denver Broncos – Round 3, Pick 83
24. Jacob Phillips – Cleveland Browns – Round 3, Pick 97
25. Saahdiq Charles – Washington Redskins – Round 4, pick 108
26. Rashard Lawrence – Arizona Cardinals – Round 4, Pick 131
27. Blake Ferguson – Miami Dolphins – Round 6, Pick 185
28. Stephen Sullivan – Seattle Seahawks – Round 7, Pick 251
Oklahoma – Texas Kickoff 2016
29. Neville Gallimore – Dallas Cowboys – Round 3, Pick 82
Get your college football fix this fall at NRG Stadium and don't miss your chance to see the NFL stars of the future while they wear their college uniforms.
2020 Texas Kickoff: Ole Miss vs Baylor, September 5
95th Battle of the Piney Woods: SFA vs Sam Houston State, October 3
April 3, 2020
Soccer
Miami, FL (Friday, April 3, 2020) - At Concacaf our thoughts are with all the communities affected by the spread of COVID-19 at this difficult time. As we continue to assess our competitions scheduled to be played in the coming months, the welfare of everyone involved in football across our region remains our first priority.
Given the ongoing public health situation, and following consultation with FIFA regarding the international football calendar, we have made the decision to suspend the Concacaf Nations League Finals, which was scheduled for June 4th – 7th 2020 in the Houston and Dallas areas.
The event, which includes the Costa Rica, Honduras, Mexico and USA men's national teams, will be rescheduled to take place at a later date in venues to be determined. This will be confirmed following further discussions with FIFA regarding the remaining international windows in the football calendar, and will obviously be subject to public health authorities deeming it safe for professional sports events to resume.
Additionally, following the same considerations and discussions with FIFA, we have made the decision to suspend the Road to Gold Cup qualification matches scheduled in the June international window and the Flow Caribbean Club Championship scheduled for May. We will discuss with stakeholders format and scheduling options for these matches and communicate our plans in due course.
We are grateful to fans across the region for their continued support for these events. In the case of the Concacaf Nations League Finals, fans who purchased tickets via Ticketmaster, SeatGeek or AXS will receive refunds automatically. Fans who purchased tickets directly at the stadium box office or through third party vendors should contact those organizations directly for more details regarding the refund process.
________________________________________
Declaración de Concacaf con respecto a la suspensión de las Finales de la Liga de Naciones Concacaf, la Clasificatoria a la Copa Oro de Concacaf y el Campeonato Caribeño de Clubes Concacaf Flow
Miami, FL (viernes, 3 de abril de 2020) - En Concacaf, nuestros pensamientos están con todas las comunidades afectadas por la propagación de COVID-19 en estos momentos difíciles. A medida que continuamos evaluando nuestras competiciones programadas para los próximos meses, el bienestar de todos los involucrados en el fútbol en nuestra región sigue siendo nuestra principal prioridad.
Dada la situación actual de salud pública, y luego de consultar con la FIFA sobre el calendario internacional de fútbol, hemos tomado la decisión de suspender las Finales de la Liga de Naciones Concacaf 2020, programadas del 4-7 de junio de 2020 en las áreas de Houston y Dallas.
El evento, que incluye a los equipos nacionales masculinos de Costa Rica, Estados Unidos, Honduras y México se reprogramará para una fecha posterior y en sedes por determinar. Esto se confirmará después de más discusiones con la FIFA sobre las ventanas internacionales restantes en el calendario de fútbol, y obviamente estará sujeto a que las autoridades de salud pública determinen que es seguro reanudar los eventos deportivos profesionales.
Además, siguiendo las mismas consideraciones y discusiones con la FIFA, hemos decidido suspender los partidos de la Clasificatoria a la Copa Oro 2021 de Concacaf a llevarse a cabo en la ventana internacional de junio y el Campeonato Caribeño de Clubes Concacaf Flow, programado para mayo. Discutiremos con los interesados el formato y las opciones de programación para estos partidos y torneos, y comunicaremos nuestros planes a su debido tiempo.
Agradecemos a los aficionados de toda la región por su continuo apoyo a estos eventos. En el caso de las Finales de la Liga de Naciones Concacaf, los aficionados que compraron boletos a través de Ticketmaster, SeatGeek o AXS recibirán reembolsos automáticamente. Los que compraron boletos directamente en la taquilla del estadio o a través de proveedores externos deben comunicarse con esas organizaciones directamente para obtener más detalles sobre el proceso de reembolso.