August 5, 2021
CFB Insider
Is College Football Living on the Edge?
With new legislation comes new challenges. Athletes can now profit from their Name, Image and Likeness according to the new NCAA bylaws. With extremely vague parameters and a LOT of money to be made, will this be a good or a bad thing for college football as a whole?
Keep reading for insight into some of the changes to be on the lookout for and tell us your opinion by responding to the CFB Insider post on @TexasBowl Twitter.
So first off—what exactly is Name, Image and Likeness? At this point, if we're being honest, no one really knows.
Essentially, athletes can except sponsorships from any company as long as:
They report it to their university.
They aren't promoting anything deemed 'inappropriate' by the NCAA (cigarettes, alcohol, porn, etc.)
It doesn't conflict with any existing university sponsorship deals.
They aren't working with professional sports team in a pay for play scenario.
And that's about it. The legislation has been in the works for years with the aim of allowing student athletes to profit from of their image while still maintaining their amateur status and NCAA eligibility. Technically the legislation as it currently stands is 'interim' so we can expect more changes to come as the kinks get worked out.
This could be a really positive move for student athletes, allowing them to share some of the profit that schools are making off their talent. There are also a couple of major what-ifs when it comes to implementing the legislation on a wider scale.
What does this mean for the distribution of talent?
There are two ways that we can look at this. First off, the new legislation might really help to spread out talent. Where in the past athletes may settle for playing behind major stars at big schools, that secondary school that might not be as good at football but can offer a starting spot might be a little more exciting. Think about it—would you rather play behind Alabama's starting QB Bryce Young who is apparently making upwards of $1M this season (Sporting News) and not make a cent? Or would you rather go play at a school like Kansas State that hasn't necessarily been producing super stars, but as a starter you could make money off half of the businesses in Kansas? Now a starting spot is not just a starting spot, developing as an athlete behind a super star with an amazing coaching staff might lose its value when playing for the little guy could mean a nice, big check.
Secondly, we know this is going to be a HUGE recruiting tool for schools now. Will we widen the gap between the big dogs and little guys as the more well-funded programs hire in-house branding teams to help promote their athletes and get them sponsorships? These student athletes—for the most part—do not have the knowledge or resources coming out of high school to be able to navigate the world of sponsorships and brand development. If a school can offer a full staff to help promote your brand, you could argue that's more valuable than winning.
Will this hurt athletic departments?
There are conversations going around that while this is good for the athletes, this is BAD for athletic departments. Why would their donors give them money when they could give their money directly to a kid for a few social posts and a commercial appearance? Alternatively, maybe the new legislation will do the opposite. If donors can now make money with sponsorships of the players AND sponsorship of the team, maybe they are compelled to increase their donations to help amp up recruiting efforts.
Will athletes benefit equally?
In this author's opinion, the answer to this question is a big fat no. Student athletes with the existing support and resources to afford an agent to establish their personal brand and shop around for sponsorships are way more suited to make money than those without. The problem with this is that those students—with all the existing resources and support—need the money they could make from the new NIL legislation the least. The beauty of the athletic scholarship is that it can turn a student's life around. If you can work hard and perfect your talent, you can gain a scholarship and make a life for yourself. What happens when schools are now looking for players that can bring in more money to their program with their existing sponsorship and well-known branding? Is a player who will sell tickets because of their TikTok following and Barstool sponsorship now more valuable than a player who is better physically but is unknown? While the new legislation is well intentioned to benefit athletes, the NCAA needs to find a balance in the regulation to help continue to move equality and avoid only benefiting those who have, rather than benefiting all based on athletic ability.
Will this keep talent in college longer?
In the past, the goal was to make it to the league. That was the dream. To make money doing what you love, as soon as there was a chance, players were making the leap to professional sports. Now, that dream can come true at the collegiate level. Will the draw of sponsorships at the collegiate level mean that players will stay their full four years? Develop more as an athlete to be better prepared to join the league? Stay to graduate with their degree to set themselves up better in the future? These arguments will probably affect football less than other sports like baseball where players don't make much money until they hit the majors, but it will be interesting to see if stars are more willing to stick around with a check coming on a regular basis.
July 29, 2021
Soccer
All remaining Gold Cup matches are officially sold out, as Semifinals in Austin and Houston latest venues set to host capacity crowds
Miami, FL (Thursday, July 29, 2021) – Concacaf has announced that the two Gold Cup Semifinal matches, to be played today, July 29 at Q2 Stadium in Austin and NRG Stadium in Houston, are officially sold out.
The matches, featuring Qatar vs United States in the first Semifinal of the day in Austin, and Mexico vs Canada in Houston, will determine the two finalists of the tournament, who will move onto the Final, to be played on Sunday, August 1 at Allegiant Stadium in Las Vegas.
The region's excitement and fandom have been on full display throughout the Confederation's premier men's national team tournament and will end in spectacular fashion with three sold-out matches, including the Final at Allegiant Stadium in Las Vegas, which sold out in only 90 minutes – the fastest sellout in tournament history.
As the official hotel partner for the Gold Cup Final in Las Vegas, MGM Resorts International is offering great rates to fans attending the match via this link.
As part of the day's festivities, fans with tickets will be urged to arrive early to avoid traffic and long waits, and to stop by the Fan Zone presented by Toyota for a chance to win premium items, play games and take a picture with the Gold Cup trophy.
The 2021 Gold Cup will be broadcast live through the Confederation's partner networks, including Fox Sports (USA-English), Univision (USA-Spanish), OneSoccer (Canada), Televisa (Mexico-Spanish), Futbol de Primera (USA-Spanish Radio), Teletica and Repretel (Costa Rica), Medcom and TVN (Panama), TCS (El Salvador), Televicentro (Honduras), ESPN (Central America), Flow Sports (Caribbean) and other local partners in the Caribbean, Central America and the world.
2021 is Concacaf's 60th anniversary year and the Gold Cup is its flagship men's competition. The first edition was played in 1991 and the 2021 edition will be the 16th Concacaf Gold Cup. Mexico is the most successful team in Gold Cup history with eight Gold Cup titles, followed by the USA with six and Canada with one. The current Gold Cup champion is Mexico who lifted the Cup in 2019 after defeating the US Men's National Team 1-0 in a hard-fought final at Chicago's Soldier Field.
Contact: media@concacaf.org
###
June 24, 2021
CFB Insider
After a season of uncertainty, many teams are looking at big question marks at the QB position. Read on to see which newbies have big shoes to fill and which veterans have big expectations to live up to.
Alabama
The defending champions are more than likely going with sophomore Bryce Young as their starter. Young, a 5-star recruit coming out of high school has very little play time with only 22 passes for 156 yards and one touchdown on his resume.
Georgia
J.T. Daniels is the undisputed starter and like many of the top teams, expectations for the Bulldogs QB is nothing short of a National Championship. With all the talent around him, Daniels must prove that he's the guy that can lead Georgia back to the 'Ship.
Houston
As the returning starter for the Cougars, it's time for Clayton Tune to show what he's capable of under Dana Holgorsen's system. After a few down seasons, the Cougars are hopeful they will contend for the AAC title this season.
Iowa State
Coach Matt Campbell and returning QB Brock Purdy are looking to continue their success from last season that resulted in a New Year's Six Bowl win. Campbell and Purdy have worked together for a few years and with Purdy's impending graduation, this will be his last shot to make a splash as a Cyclone.
Oklahoma
OU keeps the Spencer Rattler show going as he looks to cement his status as the top QB of the 2022 draft over North Carolina's Sam Howell. Going into his third season there's a lot of expectations for Rattler. Only question is, will he be able to deliver?
Oklahoma State
After earning the Cheez-it Bowl MVP the expectations are that QB Spencer Sanders will continue his success from last season. Oklahoma State added Gunnar Gundy to the roster but even as the coach's son it will be an uphill battle for playtime for the freshman QB.
Texas
After showing out in relief of the injured Sam Ehlinger against Colorado, Casey Thompson is the likely starter for Texas. With a new coach and new QB Texas is looking at a fresh start and to finally be able to claim that Texas is back.
Texas A&M
After narrowly missing the College Football Playoff last year the expectations for A&M this season are sky high. For the moment Haynes King is the presumed starter as he ended the season as Kellen Mond's backup, but he has yet to prove anything. He still needs to perform on the field to show he belongs so this QB battle will be one to keep an eye on.
Texas Tech
The QB battle is still wide open for the Red Raiders with five potential candidates to start the season off at the Texas Kickoff at NRG Stadium. The most likely starter will be Oregon transfer Tyler Shough who's an NFL hopeful looking to improve his draft stock while in Lubbock.
May 13, 2021
Soccer
Houston will host matches beginning July 13th
HOUSTON, TX – Concacaf has announced the full schedule for the 2021 Gold Cup, the region's flagship men's national team competition. This year's edition will include a new Preliminary Round (July 2-6) prior to the Group Stage (July 10-20) and a revamped Knockout Stage (July 24 – Aug 1).
This summer's Gold Cup, the 16th edition of the competition and a key part of Concacaf's 60th anniversary celebration, will be played in 11 stadiums across eight US metropolitan areas.
"We are extremely pleased to confirm the schedule and venues for this summer's Concacaf Gold Cup, which promises to be a celebration of football in our great region," said Concacaf President and FIFA Vice President Victor Montagliani. "2021 is Concacaf's 60th anniversary year and we look forward with great anticipation to watching the best men's national teams in our confederation compete for the Gold Cup title. With an exciting new format and the prospect of welcoming passionate fans to the stadiums for these compelling matchups, I can't wait for the football to begin on July 2nd and to crown a champion in Las Vegas on August 1st," added Montagliani.
Prior to the start of the 2021 Gold Cup Group Stage, 12 national teams which qualified through their Concacaf Nations League (CNL) performances, will compete in the Preliminary Round (Prelims) from July 2-6, 2021. These matches will take place at DRV PNK Stadium (Fort Lauderdale, FL) and will determine the final three teams in the Gold Cup Group Stage. The six round one Prelims matches and the three round two Prelims matches were drawn in September 2020 and are available here and below.
The Group Stage of the 2021 Concacaf Gold Cup will kick off on July 10th and will run through July 20th. The 12 qualified nations, the AFC Asian Cup Champions Qatar (guest participant) and the three Prelims winners were drawn in September 2020 into four groups.
Houston's BBVA Stadium will welcome Group D which includes Panama, Honduras, Grenada, and guest participant and AFC Asian Cup Champions Qatar. BBVA Stadium will host three days of Group Stage doubleheaders on July 13th, July 17th, and July 20th.
At the end of the Group Stage, the two best teams from each group will advance to the Quarterfinals with doubleheaders played on July 24th and 25th.
Houston's NRG Stadium will play host to one Semifinal matchup on July 29th. The venue for each specific semifinal matchup will be confirmed at the conclusion of the Group Stage.
The winners of the two semifinal matches will travel to Las Vegas' Allegiant Stadium to face off in the Final on August 1.
Tickets for all Group Stage matches will go on sale to the general public on May 20 at 10:00 a.m. local, via www.GoldCup.org. for an exclusive presale opportunity. Fans are encouraged to purchase their tickets in advance to ensure the best seats.
Concacaf's full announcement can be found here.
Jennifer Mamajek, HCHSA JMamajek@houstonsports.org
Zac Emmons, BBVA Stadium zemmons@houstondynamo.com
Allie LeClair, Lone Star Sports & Entertainment Allie.LeClair@houstontexans.com
#WeAreHoustonSports
###
May 6, 2021
Football
30 LSSE Event Alumni Drafted in 2021
Every time we host an event at NRG Stadium, we know we're seeing the future of football. It's beyond a privilege to be able to give these future stars a chance to play on a professional stage at NRG Stadium during their collegiate careers.
This year, 30 of our LSSE event alumni were drafted and many more signed as free agents to pursue their dreams in the NFL. Read on to see the full list of 2021 LSSE alumni draftees!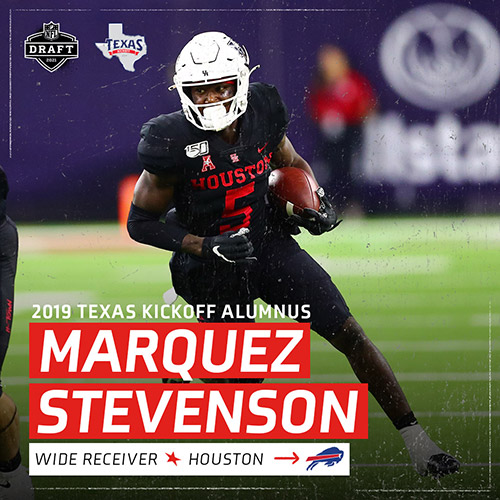 View Photo Gallery
BYU, Texas Kickoff 2017
Brady Christensen – Carolina Panthers – Round 3, Pick 6
Khyiris Tonga – Chicago Bears – Round 7, Pick 23
Chris Wilcox – Tampa Bay Buccaneers – Round 7, Pick 24
LSU, Texas Kickoff 2017
Tyler Shelvin – Cincinnati Bengals – Round 4, Pick 17
Racey McMath – Tennessee Titans – Round 6, Pick 20
JaCoby Stevens – Philadelphia Eagles – Round 6, Pick 40
Kary Vincent Jr. – Denver Broncos – Round 7, Pick 9
Texas, Texas Bowl 2017
Sam Cosmi – Washington Football Team – Round 2, Pick 19
Ta'Quon Graham – Atlanta Falcons – Round 5, Pick 4
Sam Ehlinger – Indianapolis Colts – Round 6, Pick 34
Missouri, Texas Bowl 2017
Tyree Gillespie – Las Vegas Raiders – Round 4, Pick 38
Larry Borom – Chicago Bears – Round 5, Pick 7
Joshuah Bledsoe – New England Patriots – Round 6, Pick 4
Larry Rountree III – Los Angeles Chargers – Round 6, Pick 14
Texas Tech, Texas Kickoff 2018
Zech McPhearson – Philadelphia Eagles – Round 4, Pick 18
Jack Anderson – Buffalo Bills – Round 7, Pick 8
Ole Miss, Texas Kickoff 2018
Elijah Moore – New York Jets – Round 2, Pick 2
Royce Newman – Greenbay Packers – Round 4, Pick 37
Vanderbilt, Texas Bowl 2018
Dayo Odeyingbo – Indianapolis Colts – Round 2, Pick 22
Houston, Texas Kickoff 2019
Payton Turner – New Orleans Saints – Round 1, Pick 28
Marquez Stevenson – Buffalo Bills – Round 6, Pick 19
Grant Stuard – Tampa Bay Buccaneers – Round 7, Pick 32
Oklahoma State, Texas Bowl 2019
Teven Jenkins – Chicago Bears – Round 2, Pick 7
Chuba Hubbard – Carolina Panthers – Round 4, Pick 21
Tylan Wallace – Baltimore Ravens – Round 4, Pick 26
Rodarius Williams – New York Giants – Round 6, Pick 17
Texas A&M, Texas Bowl 2019
Kellen Mond – Minnesota Vikings – Round 3, Pick 2
Bobby Brown III – Los Angeles Rams – Round 4, Pick 12
Dan Moore Jr. – Pittsburgh Steelers – Round 4, Pick 23
Buddy Johnson – Pittsburgh Steelers – Round 4, Pick 35
Don't miss your chance to see the future of football at NRG Stadium! Check out all of our upcoming events at LSSE.net.